What's in a name?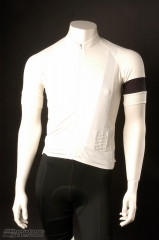 2011 marked a big step for the folks at Rapha. If you are not familiar with them, Rapha is a UK based clothing brand that has gained an incredible following thanks greatly to it's traditionally styled, high performance clothing pieces. Since their inception their goal was simple: to create apparel that not only meets the demands of the sport, but also looks great on and off the bike. Unlike many of today's brands, which cover their clothing in logos and graphic, the Rapha aesthetic took it's roots from the cycling classics era of the 30's and 40's. Until now Rapha has grown with a focus on incorporating modern fabrics and techniques into it's clothing, while never dismissing fabrics which many consider to be traditional. If you look at their line-up you will see silk, merino wool, and leather used throughout. It's exactly this which made many of us question why they would introduce the Pro Team line. Slimmer cuts, tech synthetic fabrics, and "race" logos, made us wonder if the original vision was beginning to change, or even worse, if Rapha was becoming more mainstream.
So back to my question… what's in a name? "Pro Team" seemed as though it was marketed towards a very specific set of consumers. While most of us would love to be a pro-cyclist, let's be honest, we are far from it. While we train, race, and occasionally feel like we could ride with the best of them, I can't imagine looking myself in the mirror and seeing a 6'1″ 140lb athlete. It's this reason why the idea of "Pro Team" initially sounded more like marketing than function. And I don't mean that with disrespect but we cyclists love our toys. We do! We will spend hours looking at tour photos, pro tour bikes, and special edition equipment. The nice thing about this industry has always been that we  are usually able to get "exactly" what the pros used, however it seems that clothing was always the exception. You can walk into any shop and buy a team replica bike, or helmet, but have you ever looked at the kit the pros are wearing? Sure you can go and buy a team replica jersey, but if you look closely, it's just the same colors and logos. The actual cut and fabric of these consumer replicas are never the same. In this years tour it seems everyone was wearing skin light lycra jerseys that resembled skinsuits more than the team gear available to consumers. So why do they do this? Because 23 days and thousands of miles forced clothing sponsors to make lighter, cooler, more aero,  and less restrictive gear for the top level of athletes. Soon every brand caught on and it became commonplace in the peloton but we were left out in the cold. Most brands didn't see it as an item the average cyclist would wear, and so these items became exclusive to the pros. Rapha like many clothing brands sponsor their own professional cycling team in the UK, and like every brand made a kit that would fit the demands of their pro squad. But unlike the other companies, Rapha decided to take a chance and make these kits available to the general public, and 2011 saw the introduction of the Pro Team Jersey and Bibs.
So fast forward a few months and here is NYC we have had a steady heatwave, 93 being the coolest day we have had in weeks. Because of this I decided to leave my Signature Cycles kit at home and took a chance on the Rapha Pro Team Jersey. I've never done well with riding in the heat, so when a company markets something as "cooler" I will often leave my personal expectations aside and try something new. This time around I was very glad I did.
The first thing I noticed about the jersey is it's weight. At 160 grams (compared to 242 grams for the Classic Jersey) it was the lightest jersey I had ever owned. The fabric was extremely thin, and well finished with mesh accents. The cut and the sizing is slender, but I must stress that if you are a Medium in one Rapha Jersey, you should wear a Medium in this one too. On the body the jersey's cut was extremely ergonomic and perfect for when you are in a riding posture, but I can see how some may consider this a "tighter fit". I quickly realized this jersey was meant to do one thing, make you feel like you weren't wearing anything.
On the road the jersey felt remarkable. Fitted but not restrictive. Mesh side panels run the length of the jersey and allowed for a great amount of air to come through. The crew neck style collar is lower cut compared to many jerseys I've worn which helps prevent flapping if the jersey is partially unzipped. Additional mesh accents on the sleeve were a great thought, unlike laminated or over-stitched ends, this allows the sleeve to fit a wide range of people without being tight or leaving pressure marks. The pocket placement and design seemed as though they took extremely careful planning. From the outside their placement and fabrics seamlessly match the jersey, however the underside shows a careful networking of 4 pockets, a zippered radio holder, lightweight mesh to keep the weight minimal, and even an elastic for a mini pump.
After the first mile the difference between the Pro Team Jersey and standard polyester jerseys was evident. By the end of my ride I knew this would be my first and only choice on warmer days. My final verdict? Apparently there is something to be said for the label of "Pro Team." I can easily see why it is that Professionals choose to use these exclusive kits and it's availability to the public has been long overdue. This pro items are lighter, breathe better, and keep you cooler than any cycling apparel I've worn. The cut is slightly more form fitting, but when performance and comfort are paramount, there really is nothing better. I would not hesitate to recommend this jersey to any cyclist who like me, don't fair well in heat, or to those who want comfort above all else. So let me extend a long overdue welcome to Rapha's Pro Team line.