by Blake Bedoya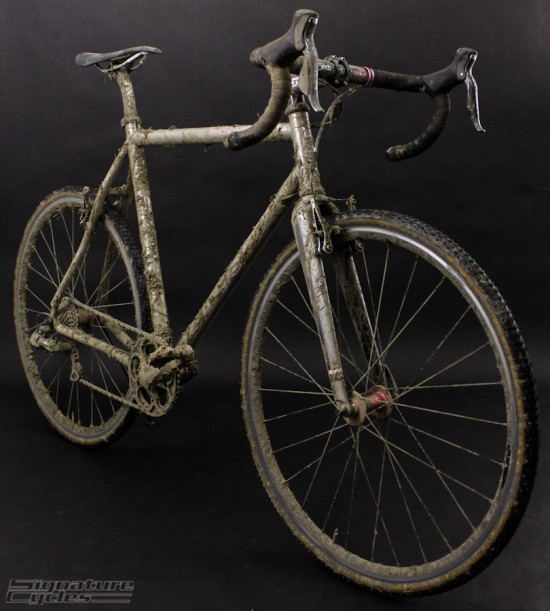 September has always been my favorite month of the year. It's the month of my birthday, the hot summer weather is finally gone, but best of all, September marks the start of cyclocross.
A love affair of sorts, that I've had since 2003 when I did my first Cyclocross race. It's a difficult sport to explain to those who have never seen it. If you ask 5 people, "What it is cyclocross?" you will most likely get 5 different answers. I can best describe it as an off road race, held on modified road-style bikes. Now throw in some obstacles, mud, and a healthy measure of rowdy fans, and there you go; cyclocross.
Like many bike race disciplines, cyclocross is a funny thing. Have you ever found yourself speaking to another cyclist… sharing race stories, comparing notes, lines, even sizing each-other up? There have been many times when I've frankly stated in an exchange "my favorite race was…" or "my best ride was…". When the fact is I don't really remember much at all. If you were to ask me what I was wearing that day, or what tire pressure I was using, I wouldn't have the slightest clue.
So what exactly makes these races so memorable? The weather, the gear, or perhaps the place you finished in? I haven't been able to figure out what that exact formula is that makes a day that would normally be "just another race" into something special.
At the beginning of last year I had one of these "favorite races." Unlike my many other forgettable races I can tell you exactly what made that day perfect. It was the first time I raced on my Seven Mudhoney SL.
Since my start with Cross, (Short for Cyclocross), I have been lucky enough to own several great frames from several great companies. Each had their highs and lows, but this was my first time being able to have something made to my requests. I'm sure many of us have had bikes we liked, even loved, but it's not uncommon so say "well… if I could change one thing…I'd…"
Well, this was my opportunity. Having the ability to make a bike from the ground up there would be no "one thing" to change. It could be perfect. I began designing in characteristics from bicycles I loved in the past, adding my own touches, and soon I had something on paper that looked… flawless.
September came and excitement grew. With my first race of the season I was finally able to "break in" the bike, and boy did I. Mother nature decided to give us a week's worth of rain which transforms a fast, dry racecourse in Pennsylvania into a death march through the mud. It was a perfect test. I made a point of not cleaning the bike. I wanted to show it off in it's natural state. My Seven was designed to be purpose oriented, stable, durable, light, and able to work under the harshest conditions I could put it in.
We decided to take some photos of the bike and highlight my personal choices. Behind every bike we build here at Signature Cycles there is a function and design. Here are a few thoughts on mine.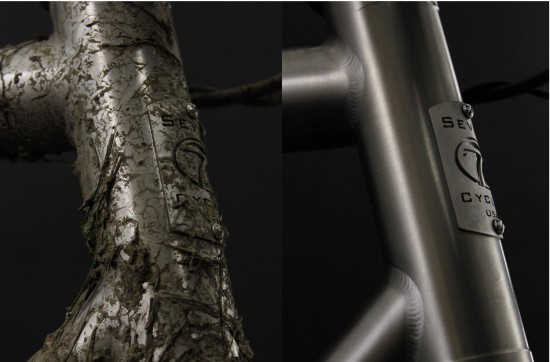 Titanium as a material:
I chose to use Titanium instead of carbon because wanted to buy a bike that would last for decades. Year after year, I would find myself bombarded with ads on why some new change to a carbon layup was a revolution. Or how the 2013 model was SO much better than the 2012. I always wondered, if it's so much better, why didn't they just make it correctly the first time. I didn't want to buy something that would become outdated as
soon as the next model year rolled out. I turned to Titanium because it was clear to see where my money went. With Seven, they offered 3 Titanium variations, as you go up in price, you increase the amount of time a skilled worker will refine each tube, simple. The more you pay, the more hours of someone's work week were dedicated to making your dream bike. I chose a fully butted or SL model as a balance of weight, ride quality, and cost.
Also important is titanium's ease of maintenance. I knew this bike would be dragged though some of the hardest conditions, and for that reason I wanted a bike that would look like new, year after year. I think you will agree that it cleaned up well, even after 2 years of riding in the mud.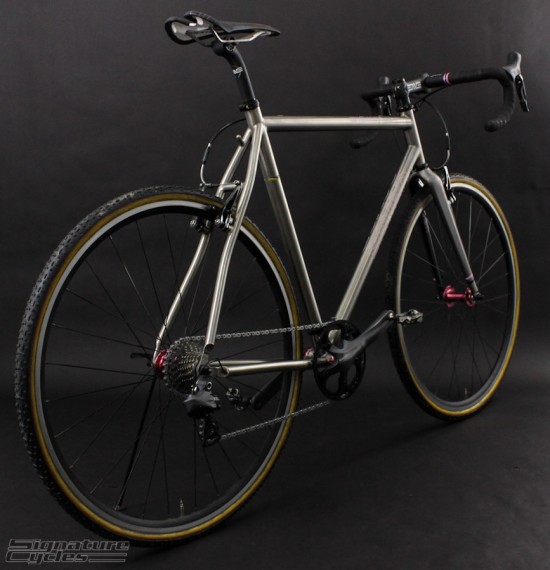 Design notes:
Bike Design is what really separates a custom bike from something pre- made. At the beginning of the design process I asked myself the same questions I ask any client walking into Signature. "Where are you riding? What are your strengths? What do you wish you could do better?" These things we ask translate to real numbers, and ultimately define how your bike will ride. I opted for longer than average chainstays, this allows for greater mud clearance. A taller bottom bracket height, allowing my to pedal through corners better. A longer trail adding to the stability of the bike while descending, something I've never been good at.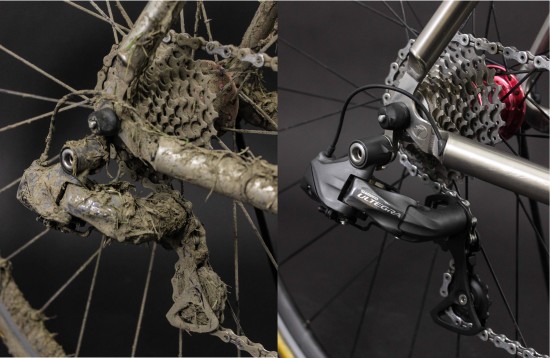 Shimano Ultegra Di2:
I chose to use Electronic shifting on my bike for two reasons. First, I have been using it on my Road bike for 2 years and it's dependability have made it a favorite for Cylocross racers here in the U.S. and Europe.
If you ever follow the Cyclocross World Cup circuit 9 out of the top 10 riders use Electronic Shifting. It's waterproof (for all cycling purposes), never falters, and a 2 hour battery charge will last you months. Many of
our clients have asked about dependability in the toughest conditions, I hope some of these photos will highlight just what an incredible system it is. I can honestly say, I have never had a mis-shift or a dropped chain.
Another interesting benefit was I was able to route the cabling internally. No exposed bits, nothing for mud to get caught on. It made for an clean system.
The end result is something that is perfect for me. So how does it ride? For you, it may feel great, or sluggish, or whatever. For me, it delivered 100% of every desire I had. So the next time I'm in that conversation with another rider and they ask "what would you change?" I can honestly respond: "nothing." I'll be looking forward to next September and to many more Septembers to come.