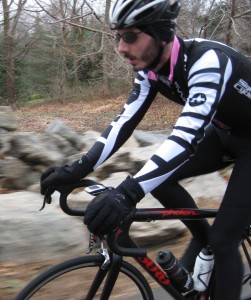 I've been known to be a little hard on products sometimes, expecting more than most. I feel that with the cost of admission on the products we sell, they should work in a spectacular and carefree way. I have always appreciated the smooth ease of use that comes with Shimano products. Simply said they set up easy and work well.
I have never been a fan of SRAM road components. I remember when SRAM Red first came out and everyone was saying how lightweight it was. That's great that it's so light because I wouldn't want anything heavy on my bike that doesn't actually shift. Needless to say, while I was never a fan, some customers and friends loved it. Over the years I learned tips and tricks to set it up better than most. I used chain X with cassette Y and voila! The SRAM shifting is almost as good as Campy and Shimano.
When the new Red was announced I was intrigued by the group. The Yaw front derailleur looked hopeful. The new shifter shape looked as if the ergonomics would be wonderful. The cassette elastomer thing was a little weird, but who knows maybe they got it this time? The brakes reminded me of designs of the past, but not in the good way with it's single pivot with a leverage increasing arm. I was intrigued but not sold. Would these parts be a "real" functional competitor?
Last winter a new frame was on the way for me, a lightweight carbon one. A Guru Photon to be exact. Full custom to my fit, design and ride preferences. A 740gr hot rod. What group should go on this rig? Di2? Campy? SRAM? "Wait, did Justin say he's putting SRAM on his bike?" Soren and Lori scratched their heads. I decided to "Make The Leap" as they say. The group looked promising and all the folks at SRAM were so excited. I decided to go for it!
One of the first groups available in the US made its way into my hands. With my new frame and my new group here it was an exciting day! I put my bike together and during the assembly I watched this video on how to set up a YAW front derailleur. I followed the instructions and built the bike accordingly.
Since I'd been riding Shimano for years, the first ride on Red was a challenge. Everytime I try to shift the front derailleur I hit the front brake. What is wrong with me? Finally after a few rides I have it down. But I can't get the front shifting dialed in. A few adjustments and WOW! The YAW derailleur doesn't set up in a traditional fashion so there's a learning curve to it. This thing shifts like Dura Ace! The rear shifting is incredibly fast, way faster than everything else. The shifters are soooo, soooo comfortable, they mount up to my bars with a perfect transition. The texture on the hoods is great, I ride with no gloves in the summer so I appreciate this.
There is another thing I'm experiencing that I've never had before, FEEDBACK. This feeling in my hands from the group that is telling me its doing its job. It's very cool. I like this feeling of "SHIFT" and I love the brake levers. Weird, who loves brake levers? Well I've been riding Shimano for a long time. I haven't been on a fixed brake lever since my Campy 10 days, a long time ago. The brake lever is not a shifter and I can change the way I use the levers. I don't need as much finger wrapped around the lever now. It is effortless.
I'm not going to go into how great the crank is and all the minutia, because that's what everyone else already did in their reviews. You know the details already. I want you to know my experience with SRAM as a rider and a technician.
The jist of it is, SRAM made a road group! A good one. And I'm enjoying it more than I have any other road group. Like I said before, I hated the old stuff and am still surprised that a year later I ride SRAM Red. This is an incredible group with an impressive package of function, aesthetics and it's crazy lightweight. My confidence in their product has come 360º. I am a satisfied customer! Good job SRAM!