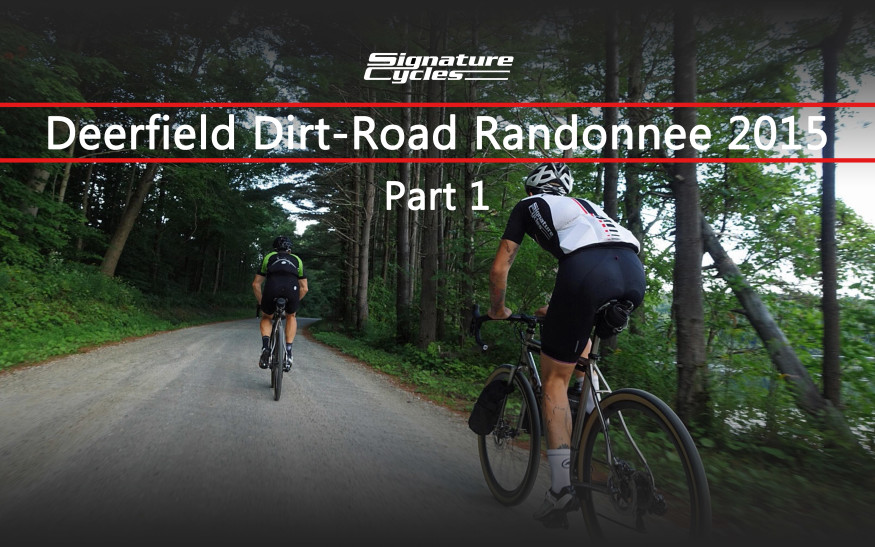 What humbly began as a favorite dirt-road loop in the hill towns of Franklin County, Massachusetts around the 1990's has quickly grown into a "bucket list" event for many cyclist worldwide. Since its official start as an organized event in 2005, the Deerfield Dirt-Road Randonnee has gained a cult like following for endurance cycling / gravel grinder enthusiasts. This 180 km event (which today offers a wide variety of shorter distances) takes place every August in the beautiful backdrop of New England's countryside. While this calming scene paints an image of serenity and enjoyment, the actual course profile is something that creates a very different image… something more reminiscent of a bandsaw profile rather than a cycling queue sheet.
This 110 Mile loop, takes cyclist up some of the hardest climbs in Franklin Country. The ride wastes little time in showing new participants what lies in store. The first 36.5 miles alone have 6,000 ft of climbing. To put this in perspective you will cover 3/4th of the elevation of the NY Gran Fondo in 1/3rd of the distance (before Piermont) on gravel roads that at times are reminiscent of mountain bike single track.
In total participants will climb over 13,000 ft on gravel accents, regularly crest 15% pitches, and at mile 100 tackle Patten Hill, a 20% "Monster" on some of loosest gravel of the day.
Sound like fun?
Well…. it is.
While the event itself may seem overwhelmingly difficult; the organization, food stops, volunteers, and local support are something I have yet to see matched in any event we have participated in. The event, which is hosted by the Franklin Land Trust, raises money which directly impacts the local community. The Franklin Land Trust is a non-profit organization in western Massachusetts that assists farmers and other landowners who want to protect their land from unwanted development. FLT has helped hundreds of families craft conservation plans that address their financial goals, family needs, and conservation vision.
What this means is that the event is run by the locals, and as our hosts they do everything they can to make sure our experience is second to none.

This year, Signature's Justin Bagnati and Blake Bedoya, along with a few close friends, traveled to Massachusetts to participate for the 2nd consecutive year. In addition to riding D2R2 on Saturday, they chose to take the path less traveled by riding back to Justin's home in Norwalk, CT over the following 2 days. This would become a three day journey that would cover 325 miles, 28,000 ft of climbing, and over 23 hours on the bike.
In this two part story we will highlight the event in length, the unique bikes we each chose to use for the ride, as well our favorite apparel items we chose to use for 3 day trip. We hope you enjoy the images and if you have any questions about the event, our gear, or wish to participate, please let us know and we can begin planning for the 2016 trip!

Day 1:
Unlike our first trip to D2R2 in 2014, we were lucky enough to be offered housing for the 2015 event. While many participants choose to camp on site or stay a local inns, having a home to set up, shower, and check over the bikes was an amazing start to the weekend.
While the 180 km officially begins at 6am we didn't have a set time for our departure and chose to get on the road only after a filling breakfast on site. As mentioned earlier, the support  for the ride is fantastic and no where does this show more than with the food/aid stations.
As we began the ride we quickly settled into a steady pace where speed was never the main objective. We knew that this would be an 8 hour day on the bike that would total over 10 hours after our aid station stops, lunch, bathroom breaks, and the few mechanical issues that would arise through the day.
As the sun came up we quickly realized that each group we passed was filled with other hand-built bikes from around the United States and beyond. I had rarely if ever seen this variety of brands represented. Among the notables were Seven Cycles, Parlee, Firefly, Indy Fab, Zanconato, Mosaic, Course, Gaulzetti, Sachs, Serotta, 22 Bikes, Crumpton, K. Bedford, Kirk, and Bishop. I can clearly remember commenting on phenomena to which Justin simple replied: "oh yea… It's like hand built bike prom".
He was right.
Each bike was unique and each owner was happy to tell us about their bike, why they chose it, how long they've had it. These brief conversations took our minds off of the steepness of the climbs and made us feel like we were all out for a Saturday ride together. I'm often asked "what's the scene" at events like these… My response is that the friendliness is something reminiscent of a classic car show. People here appreciate the quality of their bikes , the craftsmanship of their investment… It's not a place you'll have a lengthy conversation about carbon rim weights and aerodynamics.

The lunch stop, which seems to never come soon enough, was around 75 miles into the day. It quickly grows to a festival like environment where everyone catches up, shares stories of their day so far, and most importantly eats their body weight in food. We all regrouped here and relaxed for about 45 minutes.
Getting back on a bike after this never feels great, but we quickly regained our rhythm on what seemed like an instant climb out of the lunch area.
The next 20 miles, while filled with the best views of the day, seemed like they were just a distraction leading to Patten Hill. While not the hardest climb of the day in my opinion, it does peak over 20%. However, it was not the climb I focused on. Upon reaching the summit riders arrive at the Little Big House. The owners/builders of the home designed everything to be oversized… The doorknobs are the size of truck wheels and the windows like billboards. The goal is to forever feel like a kid in a toy house. While the owners did occasionally look out and wave at the hoards of spandex clad cyclists in their lawn, they hire locals to cut and distribute fresh watermelon and pickle juice on the top of the climb. I can honestly say it's some of the best watermelon I've had and I'll continue to look forward to this as my favorite part of the day. Additionally we had taken a group photo here in 2014, so why not begin a tradition.

The last 10 miles involve some technical descending with one more substantial climb. They go by quickly and this is where the stronger riders in our group began to push it. We all enjoy taking pulls as long as we can or until we each fell off the pack.
Like with any epic ride, the day ends with beers, great food, tales of the day's heroic efforts, and the best part- a swim in the local river.

The Bikes:
We recently received an email from our friends at Seven Cycles. In it they wrote:
We had an email from a photographer friend, based in Europe. It said, "Have been out shooting PBP (Paris-Brest-Paris) and was amazed at the number of Sevens I saw."
Then we were researching recent posts about the New England Randonneurs' summer brevet series, looking at results and times, and it struck what a high percentage of the riders were on our bikes.
It seems everywhere we look at the longest, hardest rides the sport offers, our bikes are disproportionately represented. We hope it's because we can offer serious riders the exact blend of performance and comfort they're looking for, and that few, if any, production bikes provide the sorts of features and options that make big adventures so much easier. Whatever the case (like Seven riders are just a little crazier than the general cycling populace), it feels good that the harder the ride, the more likely the rider is to choose Seven.
While in the context of brand advertisement, the above motion is not entirely surprising. However, D2R2 proved to reinforce the idea.
Justin, Darren, and I all found ourselves driving up to Deerfield, with our Sevens in tow. While each of our bikes are as different as their respective owners, we chose to leave alternatives at home. This was not planned, we were not sponsored, we were three riders who needed to feel 100% confident that regardless of the terrain, weather, or whatever the 3 day journey would bring, our bikes would be able to perform dependably and only add to our cycling experience.
Blake's Seven Evergreen Pro

Justin's Seven Evergreen SL 650B

In Part 2 of our D2R2 recap we will focus on Day 2 and 3 which span the additional 240 miles and highlight the Assos Offroad Rally line which we brought as our main kits for the ride. We hope you enjoy the recap and if you'd like to have us answer any of your question please send them to
Blake@signaturecycles.com