Today we want to share a ride report from Signature Cycles client Greg Walters who is currently enjoying Signature's annual Majorca trip.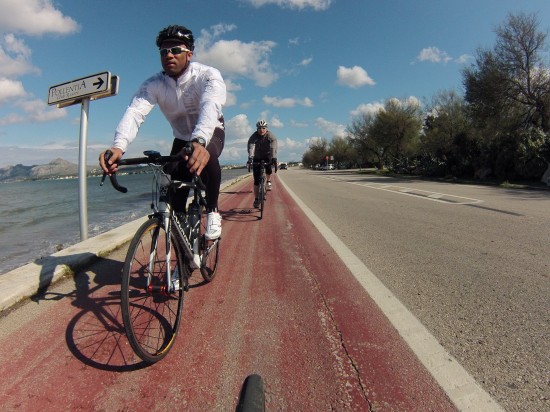 Never have I suffered more physically than I did today. Never has suffering been more rewarding. We only rode about 70 miles, but climbed nearly 7,000 vertical feet. We rode two category 4 climbs, one category 2 climb, and one category 1 climb (which took over an hour to summit).
Something happened on the first big climb (category 2 with an average grade over 6%). The pain settled quickly. I have never ridden better and I certainly have never climbed better. I passed 11 other riders, including 7 Germans. Passing Germans is remarkably satisfying. (Editors note: It's not uncommon to get passed going uphill by a German in the big ring while riding in Majorca – they tend to be fit!) After 26 minutes of climbing, I caught Justin's group, which had started several minutes ahead of me.
Then we prepared for a beautiful beast.
No photo can capture the glory of Sa Colabra (the category 1 climb). We climbed to the top of Sa Colabra from the backside, wound around a 360 degree turn and found ourselves overlooking a vista of a twisty descent of several thousand feet over 6.5 miles to a port below. The road snaked about hairpin turns of 10%+ grades, cut through rock, and disappeared over ridges. From the top, the road looked like 20 discontinuous pieces of asphalt dropped from above.
The descent is as glorious as it is frightening. Overcooking a turn would be certain tragedy (and not the Greek kind) but the pitch is awesome. It is a roller coaster for bicycles. The other element of fear is knowing that once at the bottom, I would need to climb back up this carnival ride. I have never climbed for an hour (average grade over 7%). Nor have I climbed a cat 1 (in fact I had never climbed anything more than a cat 4). This was a different pain. It was the of constant variety. Sort of like an arrow shot through the quadriceps that nestles firmly into the femur. It is not coming out and you have no choice but to deal with it. I was with Paul's group. We linked with Justin's group. And slugged it out — at times foot by foot.
About an hour later we were at the top eating lunch. Over the final two miles of climbing, every turn of the crank for me required will. A lunch of cheese on a baguette washed down with water has never tasted finer.
And with that we had 20 miles left to go. If you had said to me two years ago when I truly started riding that I would be along side Paul and Justin riding over 30 miles an hour on a flat (unaided by wind) after climbing 6,844 feet I would have laughed and ordered you another bourbon. But that is how we ended the day. Overall the ride took about 4 hours and 42 minutes at the expense of 3,284 calories. My legs are empty. My neck and back scream. And my hands ache from braking on those insane descents. How I did it, I do not know. But cycling at its core is about redemption. There is no second wind while on the bike – there are third, fourth, twelfth winds.
Tomorrow is a long day of climbs (although nothing as monumental as Sa Colabra). I will not be able to keep up tomorrow. My body knows. So tomorrow I will not surprise myself and the suffering will just be suffering. But that is okay because I will always have today. No one can take that from me.
Every single one of us has a story today. They are all about pain. And they are all about pure joy. What a magnificent sport.
Thank you all for contributing to this day.
GTW