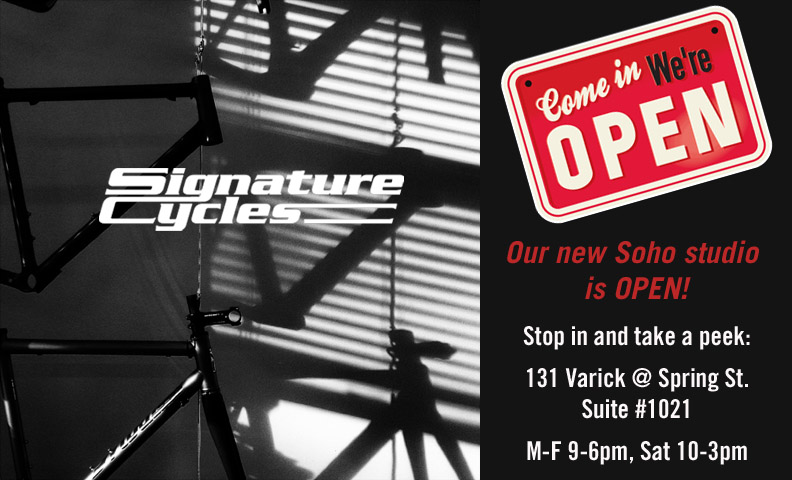 For the past fifteen years you have reminded each of us, every day, why we continue to choose the business that we are in. Time and again, you came into our 80 West End location, and trusted us with your cycling needs, challenges and desires. You have trusted us with your friends, family, and peers. For this we give you our heartfelt gratitude and thank you for being a part of the Signature Cycles family.
We wanted to give you the exclusive opportunity to see what is to come.
Laser focus on what, when, and where is best for you, your schedule, and your cycling goals. 
By Appointment Only:
Your time is valuable. The more time you can spend on your bike and less time worrying about your bike, the more you will enjoy your cycling experiences.
Concierge:
Don't lift a finger, let us come to you. We have partnered with NYC's leading courier service to bring you another first. We redefine door to door service in cycling style. 
Service:
Built from the ground up, a cutting edge Shimano Service Center equipped for today's evolving electronic innovations. Leading the industry in technology, skill and professionalism. You deserve the best. 
Our Focus is you.
You are the foundation of our success, and we want you to know how much we appreciate your business. We look forward to making your cycling experiences the most enjoyable ever. 
Looking forward to seeing you at our new location,
The Signature Cycles Team
131 Varick @ Spring St
New York, NY 10013
For Directions Click HERE!