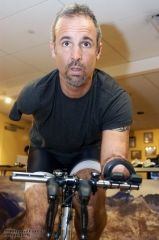 Hector Picard was introduced to us by
Matt Long
as an athlete that could benefit from our fitting services and our relationship with an array of custom builders. We had worked with Matt during his rehabilitation and journey to complete Ironman Lake Placid. Matt had unique physical challenges caused by being run over by a bus. We partnered with Serotta, creating a custom bike for Matt that helped him achieve his goal in 2009.
Hector presented his own set of unique physical challenges. Hector is a double arm amputee. That description does not solely define Hector. Hector is a competitive triathlete. His goal is to qualify for Kona Ironman, the Superbowl of triathlon competitions. Hector loves to swim and bike and struggles with the run, go figure. Our expertise in dealing with athletes' limitations will make Hector more efficient, comfortable and faster on the bike, which in turn will help his run times. His story isn't much different than most of the athletes that come to us; who all have their limitations and want to make sure that those limitations do not adversely affect their overall performance.
Our challenges with Hector were to allow him to comfortably be set in an aerodynamic position where he can shift using his left arm in a rubber sleeve while being able to brake with his right knee and eat and drink on the bike, without having to stop. Hector's bigger concern was figuring out how to change a tube during a race in case of a flat, since he doesn't ride with his prosthetic. Is it possible to change a tube with no hands?
Our first decision to address Hector's challenges was to choose a manufacturer who could create a custom titanium frame, handlebars and components. We chose titanium because of its durability and its ability to be used in different shapes and forms to create unique solutions. Hector travels to many of his races and the frame will be packed, shipped, unpacked, raced hard and manhandled almost every weekend. Titanium was the perfect choice and Seven was the perfect manufacturer for us to create a seamless marriage between Hector's aero position and his contact points on the bike.
We created a custom titanium cockpit handlebar system with a rubber sleeve for Hector's left arm that used Shimano Di2 electronic satellite shifter pods and a plate on the right side for Hector to mount his food. The shifter pods worked out perfectly where Hector can comfortably feel secure in the rubber sleeve and stretch through the sleeve just enough to touch the shifter buttons, without accidently or prematurely shifting.
The brake system was designed to use a double cable actuated brake lever which allowed us to individually tune the brake timing so that the front brake would activate first and the rear would follow. The mount for the brake lever was a titanium elbow that Seven welded to the top tube. The exact location of the brake lever was determined by having Hector position his leg at the best angle to produce the most force on the lever. Once we established the brake lever location, we calculated and created the angle of the top tube slope to mount the custom elbow which holds the lever.
Seven flawlessly delivered everything that we asked for including unique cable guide locations to accommodate the cable routing for the knee actuated brake lever.
The final challenge that we addressed was getting Hector the best wheels for aerodynamics and ease of flat changes. Zipp 404 Carbon Clinchers were the perfect solution. Its Firecrest aero profile with wider and deeper rim shape makes tube removal simple. Coupled with the Crank Brothers speed lever, Hector was able to change a flat, for the first time in nineteen years, in less than five minutes using his feet, legs, teeth and arm. Nothing is going to stop Hector from getting to Kona this year.
Hector is an inspiration to all who meet him. I have never worked with an athlete with more determination and class, who doesn't let limitations define him. Hector is defined as an athlete and after this year he will be defined as a Kona Ironman. I am betting that there is an Ironman tattoo in Hector's future.