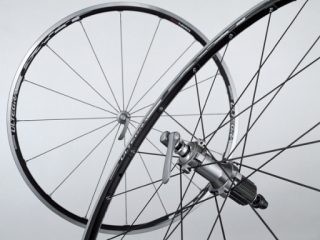 If we deconstruct the bicycle as a machine down to it's most basic elements, we are left with two wheels and a frame to connect them. When we examine the physical effort required to move a bicycle forward, air resistance, rolling resistance, weight of the bicycle and the rider, and the incline of the ground are all variables. The force required to spin the wheels is constant. So it comes as little surprise that cycling enthusiasts frequently look to their wheels when trying to extract greater performance out of themselves and their bike.
On the high end, there are near limitless advances made to bicycle wheel technology every year. Over time the stand out technology is refined and finds its way down to lower price points. The new Ultegra 6700 wheelset from Shimano marks the next step in this progression. Borrowing technology from their Dura Ace C-24 wheels, Shimano has created a light, stiff, and attractive wheelset that is tubeless compatible, all at a retail price of $650.
Out of the box the Shimano Ultegra 6700 wheelset makes a good impression. The appearance has an understated, classic vibe with silver hubs and spokes, a simple black rim and white decals. Modern design elements such as low-count bladed spokes help keep the wheels from looking retro. The Ultegra wheelset would make a nice compliment to just about any bike.
The ride quality of the wheelset also strikes a nice balance. The proprietary straight-pull spokes create a stiff wheel that corners with confidence but remains forgiving when riding over rough  roads. The road feels is considerably less harsh then my old standard everyday wheelset, the Mavic Ksyrium SL. And after a few hundred miles, including commuting through Manhattan, they remain perfectly in true.
At a weight of 1,652 grams, the Ultegra wheels are right around the average for their price. Where they really stand out is their right-out-of-the-box tubeless compatibility. This wheelset is by far the most cost effective way to try out tubeless technology. Mounted with a Hutchinson Fusion 3, the wheels really shine. The lack of tube and tire friction helps reduce rolling resistance as well as flat prevention, making the Ultegra/Fusion 3 setup ideal for winter training. The benefits of road tubeless wheels will only continue to grow as more tire choices become available. I imagine that these wheels will be a great and popular choice for tubeless cyclocross as well.
Whether you want to try tubeless road tires, need a pair of winter training wheels, or are simply  look for a solid, attractive wheelset that won't break the bank, the Shimano Ultegra 6700 wheelset is an easy choice. You may not win the envy of the peloton, but they do everything a bicycle wheel should do well, and they bring new technology down to a more affordable level. Plus, now you can stop worrying about wheels and start thinking about that upgrade to electronic shifting.