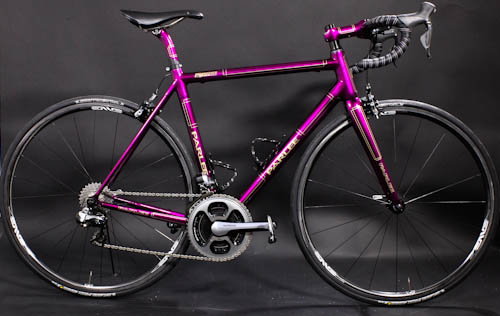 I decided to gift myself a new bike after my short hiccup this summer with my surgeries  to correct my occluded external iliac artery. It was time for me to create a whimsical paint scheme to remind myself that I ride because I like to feel like I am ten again. There is no denying it, we all ride because there are only a few things that we do as responsible adults that make us feel preteen and enjoy them as much now as we did when we used to skid in puddles with our Schwinn Stingrays.
At first look at my Parlee Z zero, you can't get past the deep purple palette trimmed with gold accents. It screams "pop a wheelie" and "this is a great skidder". This bike goes way beyond a chick magnet, it will turn heads at elementary schools. Parlee nailed the depth of my immaturity right down to the purple matching Enve seat post, stem and handlebars. I might be slow, for now, but I do feel pretty on this bike. Not that there is anything wrong with that. The only thing that is missing is streamers out the back of the handlebars.
The real test for any ten year old is can you beat your friends when there is an ice cream cone at stake for the town line sprint. This bike accelerates like a '65 Shelby Cobra shooting out of the hole. Push down on the pedals and the gap in front of you closes faster than Marcia Brady getting elected class president. It is almost an unfair race. I am still recovering from being off the bike for three months and having only four rides under my belt in the last three weeks, but taking the Parlee out this morning on the Hump ride propelled me into a state of confidence. Being dropped from the group was a distant memory, which hopefully stays deep in the back of my brain from my first ride after my recovery.
One should never take a brand new bike out on a competitive ride before at least riding a couple of tempo rides to shake things out. That would be the mature and adult thing to do. The risk of something literally going sideways while getting to know a new bike when your elbows are rubbing your buddies at 25 miles per hour is too great. Every bike has its' sweet spot and it takes a short learning curve to discover it. Luckily for this immature 54 year old, the Parlee sweet spot was as if George Jetson himself designed it to fit me using Spacely Sprocket's technology. The handling and stability of the Zero was spot on. It felt like an old friend after five minutes. Winding it up into the tight ninety degree, uphill turn, felt like my slot car with magnets under the chassis holding it tight to the track. The Zero was glued to the apex and shot me up the hill faster than you can shout Yahtzee. The plushness of the ride reminded me of the bench seat in my dad's Oldsmobile 98. It floated over bumps that otherwise would have knocked me off line on my other performance bikes. The Zero is a hot rod with cruiser comfort. Just my style.
I can't wait until tomorrow and take it out for a second time. It is supposed to rain tonight and I know this bike can skid with the best of them, shooting a tail of water far enough to splash my buddies three guys deep. I only wonder if I can get a titanium sissy bar made for the rear, so when I overshoot a wheelie it will spurt sparks off of the concrete. One can only wish.
-Paul