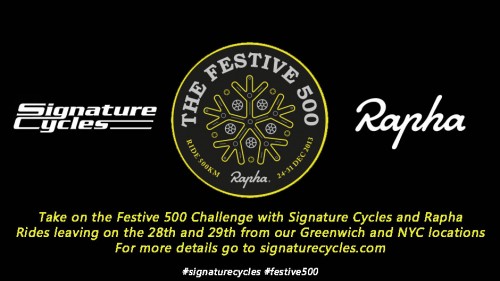 Signature Cycles will partner with Rapha and Strava this year to challenge the NY/CT area to ride 500km in 8 days. We will be hosting 2 Festive 500 rides from on the 28th and 29th from our CT and NYC locations.
On Saturday the the 28th, the Signature Cycles NYC studio and Rapha Cycle Club NYC will start with a Metro North train ride and explore roads most New Yorkers have yet to meet. We will travel to Signature Cycles in Greenwich, CT and roll through some of the most idyllic roads NE has to offer. Also we will get a chance to see some beautiful hand built bicycles while at the Greenwich Studio!
There are 3 places to meet:
1. At the Cycle Club at 9:30am
2. At Grand Central station in time for the 10:04 train to Greenwich CT
3. At Signature Cycles in Greenwich CT – 14 Railroad Ave. – 11:00am
We will have a moment at Signature's Studio in CT to fill the jersey pockets and have a light snack. The ride will be 28 miles of twisty NE roads.
For ride details, please RSVP to: Blake@signaturecycles.com
Please upload the route if you have a GPS device as there are many turns.
The train is off peak and the round trip ticket is $18.  All Riders will need to carry an MTA bicycle permit ($5 for a life long pass). Please allow time at G.C. to fill out a small form and purchase this if you do not have one. 
Riders can expect to return to G.C. at 3:08pm or 3:38pm
On Sunday the 29th, we will again join rides, and head north via 9W towards Nyack. The ride will be approximately 70 miles, and in Signature and Rapha fashion, we will try to keep the route interesting by adding some alternative roads less traveled.
There will be 2 meeting points:
1. Signature Cycles Manhattan – 8:45
2. Rapha Cycle Club NYC – 8:30
For details and to register please visit:
http://www.rapha.cc/festive-500-2013
http://www.strava.com/challenges/festive-500-2013
RSVP to Blake@signaturecycles.com for Ride info and GPS links.