Spending time on a bike in Tucson in February is always a treat. This past week I was one of eight retailers invited to attend the Zipp/SRAM Dealer Advisory Board. The board meets every year to review the state of our businesses and industry, comment on the current Zipp, SRAM and Quarq offerings and get a peak at what is in the test lab forecasted to be on our bikes in the coming 1-4 years. The meeting starts with the formal ritual of filling out the N.D.A's. So, I can't share with you what the future will bring at Zipp and SRAM, but I can say that they will make cycling even more enjoyable than it is now, with intuitive improvements to our standard way of how we operate a bike. I am being vague for a purpose, I want to be invited back next year and don't want to have a lawyer at my doorstep when I get home.
The stuff I can share is not about vapor ware, it is the cool stuff that we can all use right now. Aero bars, power meters and wheels, oh my.
Zipp just released their new Stealth aero bar. A one piece number where the base bar and stem have adjustable ranges fore, aft and pitch to allow the slickness of the one piece shape not to compromise either the aerodynamics of the bar or the adjustable range of the stem. Ingenious. The pads and aero extensions are exactly what we look for in adjustability and range, whereas the broadest athlete and the narrowest athlete can find a nice home for their forearms to be supported. This bar is a winner, both for the athlete and the fitter. Getting you in the perfect position is the first step in setting you up to PR in your next triathlon.
Quarq power meters come in two new versions for 2013, the ELSA and the RIKEN.
Call it what you wish, Quarq started with a clean slate and delivered on a promise to offer ease of use, accurate data and platforms that allow all of the chain ring choices and competitor manufacturer compatibility, leaving nothing else to want in a power meter. The Elsa gives you power balance data, allowing you to monitor your left and right leg efforts. I know that feeling like an astronaut is important to some cyclists, so strap an Elsa on to your bike and take off so you can fine tune your motor like never before.
Tucson isn't chosen every year just for its glorious sunsets and dry air. It is chosen because nothing is better than looking at the new cool offerings in a board room and then going outside in 70 degree weather and taking the stuff for a rip. It has been a long time coming since we first heard about the new 202 clincher Firecrest at last year's meeting. Not wanting lawyers on my doorstep, I kept this close to my vest, although there were sightings of the wheel being tested at small events. I waited patiently for my turn, until I could get a pair on a bike and see what all the fuss was about. In the interest of full disclosure, my baseline wheel is the Lightweight Ventoux. In my eyes the Ventoux is the best wheel money can buy for performance, comfort and durability. Yes, they are by far one of the most expensive wheels on the market. However, the holy grail of everything that is great in a wheel comes at a price. Until now.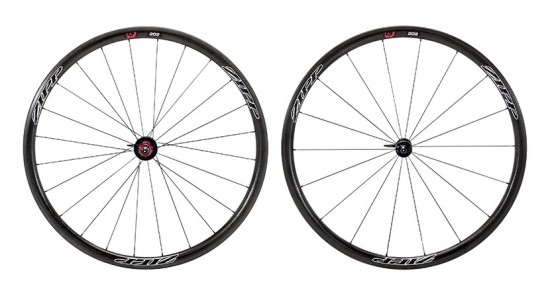 The 202's blew me away, without blowing me away. It was windy in the desert but the 202's stayed on course and gave me confidence to descend the mountain passes without tension or concern that the next cross wind would put my out-of-shape ass into a cactus. I loved the quick windup when climbing out of the saddle and the braking feel was the best of any wheel that I have ridden. If you want the best of all worlds, the 202 is your answer. You get everything and give up nothing. Not to mention you get to keep approximately $2500.00 in your pocket compared to purchasing the Lightweights. Not a bad deal and well worth the one year wait for them to finally come to market.
Now I have to wait, once again, for SRAM's new category killer to be released. I don't know why I put myself through this torture every year in Tucson. Call me a glutton for punishment, patience isn't my strong suit. I guess there are worse ways to spend a week in February than with one of the coolest companies in our industry, chatting with engaging retailers, riding vapor ware and sipping a Martini watching the Arizona sunset.