In July of 2011 we had the pleasure of working with the I Will Foundation athlete, Hector Picard. Designing a bicycle for a double arm amputee presented some interesting challenges that we were excited to tackle. A blog post detailing the unique solutions to overcome these challenges for his first bike can be found
here
.
This past May, misfortune struck Hector when his custom bicycle was
stolen from the back of his car in Florida
.
A collaborative effort between Signature Cycles, the I Will Foundation, and generous industry partners got Hector back on the road as soon as possible.
Thanks to Seven Cycles, Shimano, Zipp Speed Weaponry, and the I Will Foundation,  Hector was able to get a replacement bike made so that he could get get back to riding.
Here are some behind the scenes photos of Signature Cycles NYC technician Lisban building the bike.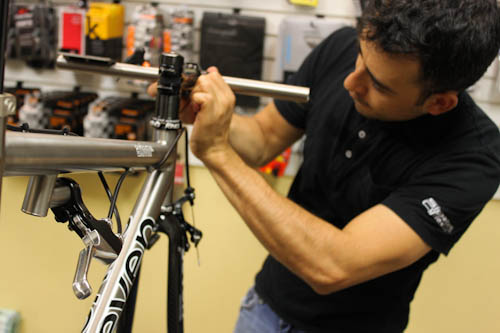 Titanium proved to be a perfect material for Hector's bike for both its ride performance and its ability to be manipulated.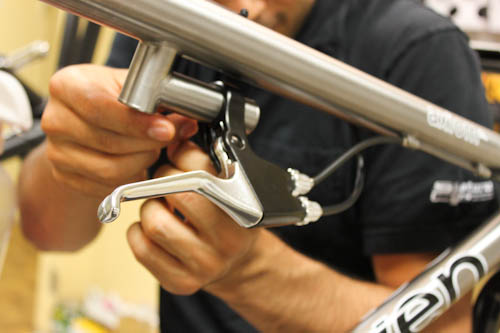 The brake system was designed to use a double cable actuated brake lever which allowed us to individually tune the brake timing so that the front brake would activate first and the rear would follow. The mount for the brake lever was a titanium elbow that Seven welded to the top tube. The exact location of the brake lever was determined by having Hector position his leg at the best angle to produce the most force on the lever.
A close up of Hector's unique handlebar. Designed in cooperation with Seven Cycles, the left side has a Titanium place which will hold a PVC arm mount and 2 Shimano Di2 Electronic shifters. This allows Hector to maintain a stable aero position and actuate the shifters on the bike.