Let's face it, this winter is never-ending!
I feel I can safely speak for everyone when I say, I'm ready for Spring.
Here at Signature, our road bikes are either collecting dust in the corner of our homes, or the look like they've been dragged through a war zone, covered in mud and salt.
Our beautiful Parlees, Passonis, and Gurus are sitting on the sidelines, like high-performance sports cars, garaged because of this weather. So what are we left with to ride? Well, that's an interesting question, lets introduce our "other" bikes.
This past year, Justin and I decided to go "outside of the box" with our next builds, and began to explore all the interesting technologies the industry had to offer; including disc brakes, hydraulic options, electronic shifting, and more. The result; two bikes that didn't quite fit the mold, however turned out to be everything we could ask for in this winter weather.

For Justin, the result was an extremely unique Seven titanium 650b "All Road" bike. By utilizing disc brakes, Justin's bike can effectively transform into 3 different configurations depending on the wheels and tires used. Pictured with 650b XC Enves and a 42mm Grand Boix tire, this bike will geometrically match any standard road bike, however with an incredible 42mm tire, any terrain is an option. Dirt, gravel, pavement, or even logging roads are now something not only possible, but encouraged. Additionally, changing to a treaded mountain bike tire allows for extra traction on light single-track, or in our case snow! Fender mounts will keep the salt off of the bike no matter how bad it gets.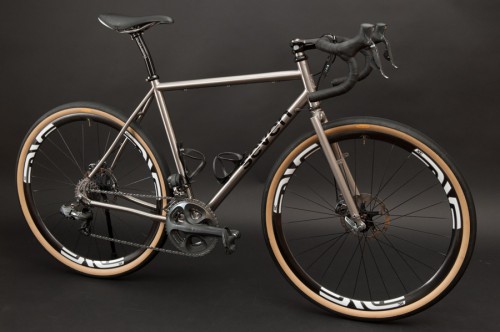 My bike, the Evergreen Pro, is a new addition to Seven Cycles's expansive lineup. It was originally designed to fill the need for a "Gravel Grinding" or "all road" bike. Part road, part touring, part cyclocross, this bike uses 700c or 29 inch Disc wheels and can use anything from a 23mm racing tire, to a 40mm studded tire with fenders. Additionally, modifications on the fork and frame allow for full coverage fenders and racks.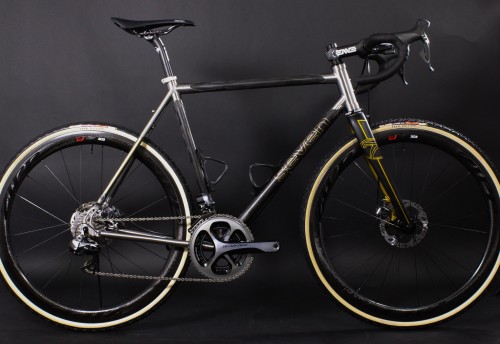 Both of these projects came from our interest in having a commuting bikes that could tackle any weather, We just didn't realize how bad the weather would get this winter. While we imagined these bikes perfectly suiting mixed-road events like D2R2, Battenkill, or even the occasional trail ride, the ability to use disc brakes, oversize tires, and fenders have allowed us to get the most of this winter.
As the weather continues to change and the demands of our bikes vary, we would like to invite you to come into our showrooms, and see the many configurations these "All Road" bikes will allow. If you have any questions on our experiences, please don't hesitate to reach out. For now, we will leave you with a few images of where these bikes have allowed us to go!
-Blake and Justin.